Chimney Caps
The Importance of Flue Lining in Masonry Chimney
Multi Flue Stainless Steel Rain Chimney Caps Repair Installers in CT
More chimney damage is caused by the lack of a chimney cap than any other source. Rain causes premature deterioration to the chimney interior and can damage metal fireboxes and dampers. It can also erode flue tiles and mortar joints, causing them to crumble and leave dangerous cracks and blockages.

Animals see an uncapped chimney as an open invitation to move in - unfortunately, they bring with them a variety of evils.

Birds and animals carry diseases such as rabies and histoplasmosis. Bird droppings combine with rain to create a terrible smell. And, once a squirrel or raccoon gets into your chimney, it may also enter your home where it can cause untold damage to furniture, drapes, and carpets. Animals nesting in your chimney are also an unnerving source of chatter and commotion. And, their nests can result in dangerous flue blockages.
Chimney Caps
---
We offer stainless steel rain caps, stainless steel round flue, and custom copper rain cap in Northwestern CT. For over 25 years we have been delivering excellent service and quality work at fair prices across Connecticut, CT. 3G Chimney is the only source for CSIA Certified Sweeps in Northwestern Connecticut, CT.
Single-Flue Chimney Caps
---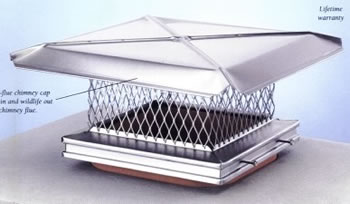 Stock sizes with flat gable lid; 8" screen height with 3/4" mesh bird/animal guard. Attaches to top of flue tile liner with 4 pressure screws included.
Copper caps are shiny when they arrive and will age naturally to a green patina.
Multi-Flue Chimney Caps
---

Stock size multi-flue caps come with flat gable lid; 8" screen height; attaches to top of chimney crown to cover 2 or more flues. Tapcon mounting screws & adhesive included. Lifetime warranty.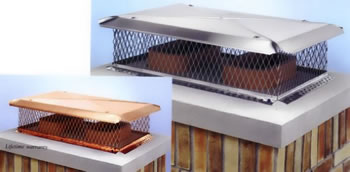 Specialty Chimney Caps
---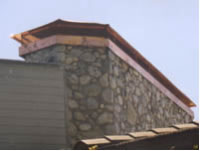 Outside Mount custom copper cap.
Notice the band around the outer edge of the chimney. This is such a quality custom look that it will add to the architectural detail of your home! This is also the most practical design where the budget allows, as it protects the chimney crown for optimum protection from weather.
EXACT measurements of EACH of all 4 sides needed to obtain price quote.
---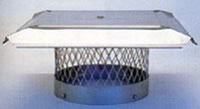 Round Base custom stainless cap.
Features gable top and round base. Used for round flue tiles, chimneys that have been lined with round stainless steel.
---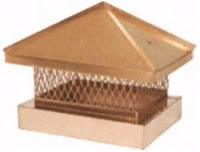 Hip Roof custom copper cap.
Featuring hip roof and outside mounting.
---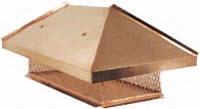 Hip & Ridge Roof custom cap.
This one is shown in copper. Mounting flanges shown are for a top mount cap that adheres to the chimney crown.
---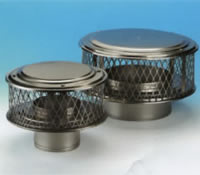 Home Saver Pro Guardian cap
---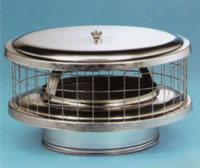 Weather shield for solid pack insulated chimney
---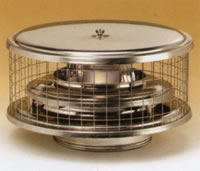 Weather shield for air-insulated chimney
---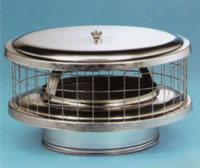 Vacu-Stack
Helps solving some chimney smoking problems caused by high wind conditions
---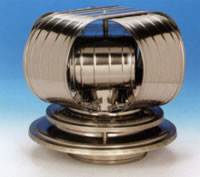 Vacu-Stack for insulated chimney
---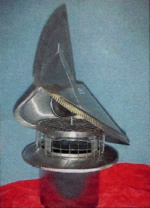 Wind Cap
copper, brass or stainless steel
---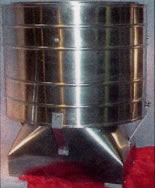 Monsoon Cap
copper, brass or stainless steel
---